This water to air intercooler kit is designed for drag racing only.
Unlike most of our kits, it does not include a radiator or fans. Leaving the radiator out of the equation can have the effect of keeping your cooling fluid colder, further cooling the intake air. This only makes sense if you will always be adding ice to your reservoir for drag racing.
You can still drive on the street with this kit installed. Even if there is no ice in your reservoir, the water will still absorb a certain amount of heat from the intake air before overheating. This means turn down your boost or drive conservatively. In zero-boost situations, the intake air will actually be cooling the water back down through the intercooler core. Please be cautious because if your car is tuned for the ice cooled air and you overheat the water, the results could be expensive.
The Intercooler Core
This impressive Liquid/Air intercooler is better than any FMIC.
100% Lightweight aluminum, No Epoxy Used In Core
Recommended for over 1500 CFM
Pressure Drop: Less than 0.2 PSI. This is not a typo! Liquid/Air Intercoolers have incredibly low pressure drop.
Inlet: 3.5" Outlet: 3.5"
Core Size: 10"x9"x4.5" (Endtanks add to length)
Maximum water/air pressure: 70 PSI
This intercooler has the inlet and outlet on the SAME SIDE.
Note: The water inlet and outlet on most water/air intercoolers are BPT threads. BPT fittings are difficult to find in the United States, so ours all come with NPT threads.
WARNING!
Some Water to Air Intercoolers that you can buy online do not contain true water to air cores. A true water to air core has water passages that are much smaller than the air passages. This is part of what allows the water to air intercooler to be so small and have such low pressure drop. Some water to air intercoolers that you buy online use an air to air core design where the air passages for ambient air and intake air are the same size, with an enormous loss of efficiency. Buy from us to make sure that you get a genuine water to air intercooler core!
The Ice Box
These Ice Box Reservoirs are perfect for drag racing with a Water to Air Intercooler.
By plumbing this in to the water system of your Water to Air Intercooler and adding ice, it is possible to get intake temperatures BELOW ambient air, resulting in tremendous power gains. And because the water system is separate from the air system, you can mount this Ice Box Reservoir anywhere in the vehicle, including the trunk, passenger floor, back seat, or bed of a truck, without hurting performance.
Comes with four ports on the front for high versatility. We recommend using the top port for the water return line (from the outlet on the intercooler), one of the bottom ports for the feed line (to the inlet of the pump), the other bottom port as a drain plug, and the middle port can be left plugged or used for an in-tank pump or sensor. All four ports come with screw-in, removable anodized plugs installed, allowing you to use any number of the ports or use this as a simple storage tank.
Used in conjunction with our Full Port Ball Valves (sold separately), this box makes changing the ice in your system incredibly fast and easy to do right in the staging lane.
Turn off your Water to Air Pump
Close the ball valves for the inlet and outlet
Open the ball valve for the drain and let the water drain out of the box, then close the drain
Remove the lid on top and fill with up to 20 pounds of ice, top off with water, replace lid. Leave one inch of room at the top when filling with ice. This way, when the ice floats, the feed line will only be exposed to water, preventing it from sucking in ice and clogging the line.
Open ball valves for inlet and outlet, turn pump back on, and you're done!
For maximum thermal efficiency, we recommend wrapping the box, your feed line, your intercooler, and your upper intercooler piping with some kind of thermal wrap (the heat wrap used for exhaust manifolds works well.) You can also add some water wetter each time you replace the ice.
Oversize, water-tight filler cap makes it easy to dump in ice quickly.
High-strength and good looking aluminum is compatible with water, coolant/antifreeze, and methanol.
Can also be used for other applications, such as a storage tank for your water/methanol injection needs.
Wide, short design means you can mount it low in the vehicle to improve your center of gravity.
Just large enough to make several drag passes without having to change the ice each time, but not so large as to add too much weight.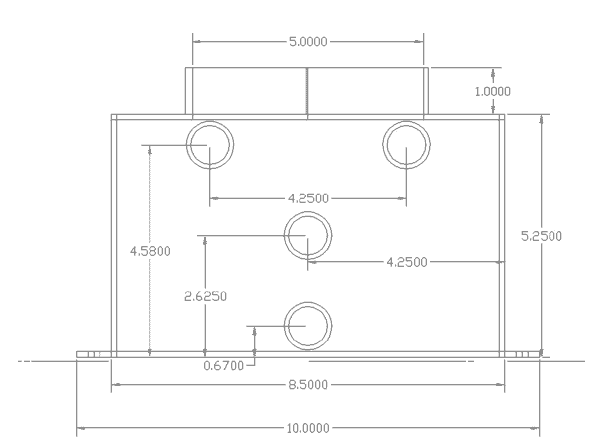 The Pump
The pump is the key to producing such an economical kit. Other pumps which are purpose built for water to air intercooler systems cost up to ten times as much!
These Rule 401FC pumps are designed for livewell/baitwell/bilge applications but their high flow rate and low cost makes them ideal for use as water to air intercooler pumps.
Must be mounted at the low point in the system - these pumps push water but they will not pull it.
Must be mounted after the water in your system is cooled (after radiator or icebox) - excessive heat may result in premature pump failure.
Pump operates on 12V-14V DC.
Flow rate: 500 GPH.
Designed for use with room temperature water, however we have tested these pumps long term with 130° antifreeze/coolant with excellent results.
Designed with a minimum 1500-hour service life in mind, these pumps come with a 3 year warranty direct from Rule/ITT. However, use with high temperature water and/or antifreeze/coolant may void this warranty.
Pump is brand new and will be shipped in retail packaging.
For detailed specifications, please review the specification document provided by Rule: Pump Specifications
Still not convinced? Please read more about the benefits of water to air intercoolers by clicking HERE.