These Braided Stainless Steel Lines are specially designed to work in any automotive project.
Compatible with the following fluids:
High octane gasoline, up to 117 Octane or higher
Regular gasoline
Ethanol (E85 or E100)
Diesel fuel
Biodiesel
Methanol
Nitrous oxide
Engine oil (synthetic or regular)
Transmission fluid
Engine coolant/antifreeze
Brake fluid
Hydraulic clutch fluid
Air Conditioning Refrigerant (R12 or R134A)
Power steering fluid
Air and water, of course
Most of the braided stainless steel lines and fittings that you can buy actually have a rubber (EPDM or NBR) interior. Some competing products advertise a special coating on the inside of the rubber to make them resistant to ethanol and certain other chemicals. We think this is wrong wrong wrong. Why would you use a material that isn't 100% resistant to the chemicals in your application for absolutely no reason? Our PTFE lines are superior to our competitors rubber lines in every way and they cost less too!
These lines are made of high-quality PTFE on the inside that gives them high chemical and heat resistance, along with a braided stainless steel outside which gives them high durability, extreme pressure resistance, and a professional and high-tech appearance. They are smooth bore for optimal flow. Be careful when buying Braided Stainless Steel Hose because they are not all the same! Make sure yours are compatible with the fluid, pressure and temperature in your application.
Braided Stainless Steel PTFE lines like these are great for replacing many factory rubber hoses such as rubber fuel lines, brake lines, and clutch lines. PTFE does not deteriorate or bulge with age like rubber does, and has far superior chemical resistance. The stainless steel outside keeps the inner diameter uniform, allowing faster and more efficient fluid transfer (this means a firmer, more responsive pedal feel when replacing brake lines.) The stainless steel outside also keeps the lines looking shiny, new and professional all the time, and prevents damage to the inner hose.
Question: Are these lines Teflon?
They are chemically identical to Teflon, however we can't call them Teflon because Teflon is a registered trademark of DuPont.
Question: What can I do with these lines?
Use them to replace your fuel lines and convert your car to run on Ethanol without worrying about breaking down your inferior factory lines
Deliver the methanol in your custom methanol injection kit
Design or modify your nitrous oxide system
Install an aftermarket oil cooler
Install an aftermarket transmission cooler
Run the water lines for a water to air intercooler
Install custom brake lines
Repair or replace the lines in your hydraulic clutch system
Repair or replace the lines in air conditioning system
Convert all your boost/vacuum hose to stainless steel lines to finally put an end to boost/vacuum leaks
And More!
This is sold per foot. If you order 10 of these, we will ship you a 10ft continuous length of line.
Pressure Rating: 800 PSI - note: crimp-on fittings are recommended for applications over 500 PSI.
Vacuum Rating: 265 inHg.
Temperature Rating: -100F to 500F
Notice: These lines are most likely not compatible with other line termination fittings on the market. Dimensions of our SS lines: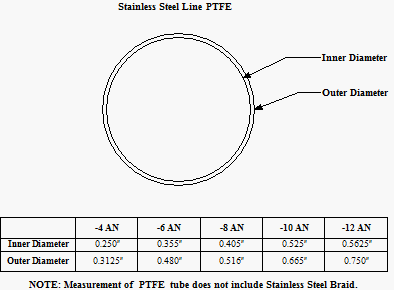 How To Install Fittings
Product Update! We have made some revisions to this product to further improve the quality.
Triple Grip Design. The brass compression fitting now grips the line in three places for enhanced specifications and safety. Some other lines you find online only grip in one place!
Graphite (carbon) is now added to the PTFE to reduce the potential for electrostatic discharge, increasing safety during high-velocity transfer of certain flammable liquids.
The grade of stainless steel has been upgraded from 301 to 304 for increased resistance to corrosion.
Flexibility of the lines is slightly enhanced compared to prior versions.
Our black SS lines are no longer painted. Instead they include a thermoplastic polyurethane (TPU) coating, giving them a more uniform finish.
Fully backwards compatible with our line termination fittings.
Our fittings are a three-piece design. Properly installed, the stainless steel braids are gripped by the fitting. The stainless steel should typically not be trimmed down, but may be necessary in some cases. If you have the black lines with TPU coating, you must trim down the TPU so that it does not get caught in the fitting.


Slide the collar over the stainless steel line.
Carefully feather out the stainless steel braiding & insert the ferrule (BRASS PART) over the PTFE line. The chamfered side of the ferrule should be oriented toward the braided stainless jacket as shown in photo. The end of the PTFE line should protrude approximately 1/8" beyond the end of the ferrule. This allows the PTFE line to be flared open & grip against both the ferrule & the fitting


Insert the fitting through the ferrule & into the PTFE line as far as it will go. You'll notice the PTFE line being opened up by the top part of the fitting, which helps it seal when you tighten the fitting.


Be careful not to scratch the finish on the fitting when tightening. They make special wrenches for this, but we prefer an old rag wrapped around the fitting and a regular wrench.


If you open the fitting again after tightening, you will notice that the PTFE line has been compressed between the fitting insert & ferrule of the fitting.

Please check the following before you start, and check again if you have any problems.
Highly Recommended: Use our AN Fittings Pressure Test Kit to pressure test your built lines before installing. This kit will help you troubleshoot any problems with assembly and prevent a nasty fluid spill.
PTFE and Stainless Steel lines should not be bent in a short radius. If you need a quick bend in your line, install some extra fittings instead of bending the line.
Be careful not to kink the line during installation. The line is firm and hard to kink, but if you do kink it you might ruin it.
Make sure the line is square where it was cut. If the line is cut at a slight angle, it might result in an improper seal, resulting in leakage or failure. We use a cutoff saw that holds the line down to make sure the cut is perfectly square and clean. If you re-cut the line, make sure it's square.
Make sure you don't get any of the stainless steel braids caught up in the threads. If you get any steel in the threads, it will prevent proper tightening, resulting in leakage and most likely damage to the threads.
Depending on how you cut the line and how much the PTFE inner moves around in the SS braids (for short lines), you might end up with a situation where the SS needs to be trimmed down slightly. If you have trouble tightening fully, you might try trimming the SS slightly. Note that it should still be long enough to be compressed against the middle part of the fitting.
If you have the black lines, make sure the TPU is not getting caught in the fitting. If the TPU is caught between the SS and the fitting, it will prevent a proper seal.
Double check that the middle part of the fitting is installed facing the correct direction! Check the pictures - the tapered end should be pointed toward the SS braids. If you install it backwards, it can cause the lines to work OK temporarily and then leak or fail at a random time in the future.
Un-terminated PTFE lines are not designed for use with barbed fittings and hose clamps, they are both too stiff and too slippery.